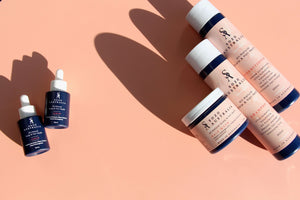 All-Natural Scalp & Haircare
Achieve your healthiest scalp & hair
Natural Haircare Formulated For Results
Tired of the natural hair products that are safer and better for you but don't give your scalp and hair what they really need to thrive? Have you wasted money on complicated hair care routines that don't give you real results?
At Sozo Australia, we've scientifically formulated only all natural ingredients into our Australian made shampoo, conditioner, hair mask and serum proven to help you achieve your healthiest scalp and hair, that looks and feels amazing, while also being easy to style and manage now and for many years to come.
Our natural, Australian hair products, treatments and solutions that are free from all harsh chemicals and nasties, are suitable for all hair types, including hair that is coloured, thinning, limp, damaged, dry, brittle or frizzy. Our chemical free hair care is also formulated to soothe itchy, irritated and flaky scalps.
With our Sozo Hair Health range, you can experience hair that is soft, hydrated, smooth, thick, repaired, protected, strengthened and voluminous.
Australian
Natural Haircare
No Sulphates.
No Silicones.
No Parabens.
No Phthalates.
No Animal Testing.
No Perfumes.
No PEGs.
Vegan Shampoo, Conditioner & Serum. Australian Haircare. Australian Actives. Colour Safe.
Shop Now
Diagnosis leads to business success.

Gold Coast Bulletin

Kaitlyn Smith
Aussie who lost her locks after diabetes diagnosis launches 'holy grail' haircare range

7News

Sophie Haslett
Excellent for problematic scalps and damaged hair, these Australian made products are designed with the aim of hair that looks more voluminous with a greater shine.

British Vogue

June 2021 Glam Guide
Aussie entrepreneur takes natural haircare global.

In Queensland

Katrina Beikoff
Gold Coast Bulletin

We Are Gold Coast
Australian Haircare With
All Results & No Chemicals.
1. Shop & Switch to Sozo Hair Health.
2. Commit to consistently using our all-natural haircare multiple times each week.
3. Experience your healthiest scalp & hair without the harmful chemicals.
Switch To Sozo Now
Sozo Supports
THE POWER OF YOUR PURCHASE
We are passionate about helping PEOPLE and we want to work closely with you so we can make a real difference in this world TOGETHER. Playing your part is as simple as purchasing just one Sozo Australia Hair Health product because we are committed to donating $1 from every haircare product sold to JDRF Australia, for October, November and December (excluding single hair accessories). JDRF is the leading organisation in the world supporting Type 1 Diabetes research and advocacy, ultimately working to treat, cure and prevent this autoimmune disease that is impacting the lives of so many Australians.
Australian Made
Natural, Chemical Free Shampoo
Our sulphate free shampoo provides a rich lather experience to effectively clean and nourish your scalp and hair, unlike many natural shampoos in the market. With our all natural shampoo, you can experience increased shine, hydration and moisture, whereas most chemical and sulphate based shampoos strip out your scalp's natural sebum (oil) over time. Formulated with natural lavender oil, our perfume free shampoo provides a fresh, lavender scent and experience with every wash. Our Australian made Sozo Hair Health Shampoo contains a range of all natural hair care ingredients to leave your hair feeling strong, silky smooth, frizz free and more voluminous.
Vegan
All Natural Conditioner
Our silicone and chemical free conditioner is packed with all natural ingredients scientifically proven to hydrate, condition, repair, protect, strengthen, eliminate frizz and much more, while providing maximum volume and body in your hair for easier styling. Our carefully selected ingredients will nourish without leaving that heavy, build up feeling on your scalp and hair. Formulated with natural lavender oil to complement the lavender scent of our Sozo Hair Health Shampoo, our Australian made conditioner is also free from all perfumes.
Hair Treatment
Australian Hair Mask
Our all natural hair mask will repair dry, damaged hair, split ends and breakage within minutes, as well as eliminate frizz and improve combability. Formulated with manuka honey as just one of the key feature ingredients, our coconut oil scented hair mask will also soothe and treat itchy, flaky and irritated scalps. Use our Australian made hair mask treatment in place of conditioner at least once a week, leaving it in for as little as two to three minutes or up to 30 minutes for a more intense treatment, and enjoy silky, soft hair.
Natural Hair Care sets
The complete Sozo Australia experience
Ready to transform your scalp and hair health with our complete range of scientifically formulated Australian hair products? Shop our all natural haircare in our discounted Sozo Hair Health bundles, saving up to 15% off instantly, and experience your healthiest scalp and hair.