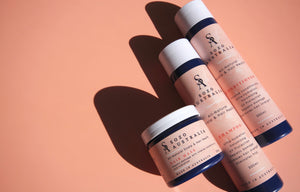 All-Natural Scalp & Haircare
Enhance your curl & achieve your healthiest scalp & hair
Natural Hair Care For Curly, Frizzy Hair
Tired of dry, frizzy hair? Are you wanting to enhance your natural curls without the harsh chemicals? Our Australian, natural hair products are formulated with ingredients including argan oil, beetroot extract, green tea leaf extract and many more, to give you hair that is soft, hydrated and conditioned while also enhancing your curls and giving you more volume.
With consistent use of our all natural shampoo and conditioner, as well as regular applications of our Australian hair mask which is the perfect hair treatment for frizz, you can tame flyaways, increase shine and experience your healthiest scalp and hair.
Customer Results
Curly Hair Care
After consistently using our chemical free shampoo and conditioner, and applying our all natural hair mask at least once a week, Jess now experiences increased hydration, less frizz and more curls!
"My ends are MUCH less dry than they have been, and my natural curls are sticking longer. Overall, my hair feels softer too!!"⁠ - Jess S.
Experience real results
⭐️⭐️⭐️⭐️⭐️
"To be really frank and honest, I've only just recently been using Sozo and I have to say.... WOW! My hair is loving this product. It feels more hydrated, less frizz (and I'm a curly girl), it doesn't weigh the hair down, loads of body and my hair looks fuller. I'm super impressed so far and I'm hopeful things continually improve with use." - Faye C., Sozo Australia customer
⭐️⭐️⭐️⭐️⭐️
"Great for my curly hair. I have very long curly hair, for the first time in 30 years did not need to put products in it." - Ms M., Sozo Australia customer
⭐️⭐️⭐️⭐️⭐️
"Great combination! This was my first purchase and I will buy it again. My hair and scalp have never been so happy. I used to wash my hair every day, due to my scalp feeling oily the next morning and my hair just not sitting right. With Sozo, I wash my hair every 2nd to 3rd day and no oily scalp - absolutely unbelievable! My hair styles easily. I also got my natural curl back. My hair and scalp feel healthy. I use the hair mask with every third wash and it feels luxurious." - Ronell B., Sozo Australia customer
Enjoy natural haircare
Your healthy hair journey starts now!
Hello! I'm Isabella, the founder of Sozo Australia. In 2019, I was unexpectedly diagnosed with type one diabetes, then experienced significant hair loss.
I know exactly how it feels to struggle with unhealthy hair that is extremely limp and difficult to style. So, after not being able to find truly all-natural haircare products that genuinely gave me the results I needed, I took the journey to develop our Sozo Hair Health products with the goal of transforming all hair types, including you curly girls!
Now having achieved my healthiest scalp and hair with our Aussie made, natural haircare, and helping many others do the same, I'm excited to join you on your journey to experiencing a healthier scalp and hair that is hydrated, conditioned, repaired, protected, frizz-free and full of volume.
Let's start your hair health journey today!
Tame flyaways and frizz
All-Natural Curly Hair Products
Ready to control frizz, enhance natural curls and tame flyaways? Make the switch to our all-natural haircare.
1. Shop & switch to Sozo Hair Health.
2. Commit to consistently using our Australian hair products multiple times each week.
3. Experience your healthiest scalp & hair without the harmful chemicals
Shop Now
All Natural Hair Care Giving All The Results
Our Australian made Sozo Hair Health Shampoo, Conditioner and Hair Mask have been scientifically formulated with only all natural haircare ingredients to give you all the results without any harsh chemicals or hidden nasties.
Aloe Vera Hair Products
Aloe Barbadensis Leaf Juice
Our range of natural hair products is formulated with aloe barbadensis leaf juice as the first ingredient, instead of water which is the foundation of most haircare products. Aloe vera provides your scalp and hair with maximum hydration and moisture, which is essential to restoring your natural curls and managing frizz. Plus, aloe is also known to enhance the performance of all the natural ingredients formulated into our Hair Health products.
Frizzy Hair Solutions
Argan Oil
Argan oil, found in our natural shampoo, conditioner and hair mask, is rich in vitamin E, carotene and essential fatty acids, providing wonderful benefits for curly and frizzy hair. This haircare ingredient intensely conditions, increases shine and eliminates frizz.
Moisturise & Smooth Frizzy Hair
Finger Lime Fruit Extract
With finger lime being rich in vitamin C, antioxidants, folate and alpha hydroxy acids, this natural ingredient is known to provide moisture to your scalp, as well as the hair bulb. Being formulated into our Hair Health Shampoo, Conditioner and Hair Mask, finger lime will also smooth and repair damaged, frizzy hair and increase your overall shine.
Make the switch to Sozo to experience the scientifically proven benefits of these natural ingredients plus many more formulated into our Hair Health range.